Introduction of Harvard Week
Since 2009, Kaohsiung Medical University (KMU) has been privileged to invite professors from Harvard University to perform the Team Teaching. The team teaching usually Is held for one week, and during this week students can take the world's top academic classes at our campus. This is therefore called the "Harvard Week".
In recent years, we have invited Nephrologists Dr. Dr. Julian L. Seifter and Dr. Vanesa Bijol, and hepatologists Dr. David Cohen and Dr. Raymond Chung. This program had brought mutual good impressions. The academic exchange between Kaohsiung Medical University and Harvard University goes on which promotes one of our overarching goals in medical education, facilitation of students' global perspectives.
This year, we are going to have Orthopedic Surgeons Dr. Christopher DiGiovanni and Dr. Jesse Jupiter from Harvard University to hold the "Harvard week" for the Musculoskeletal System Team Teaching during September 30
Exchange program students who are coincidently coming to KMU during this week will be very welcome to experience and get involved in this upcoming "Harvard Week".
{slider Upcoming in 2019}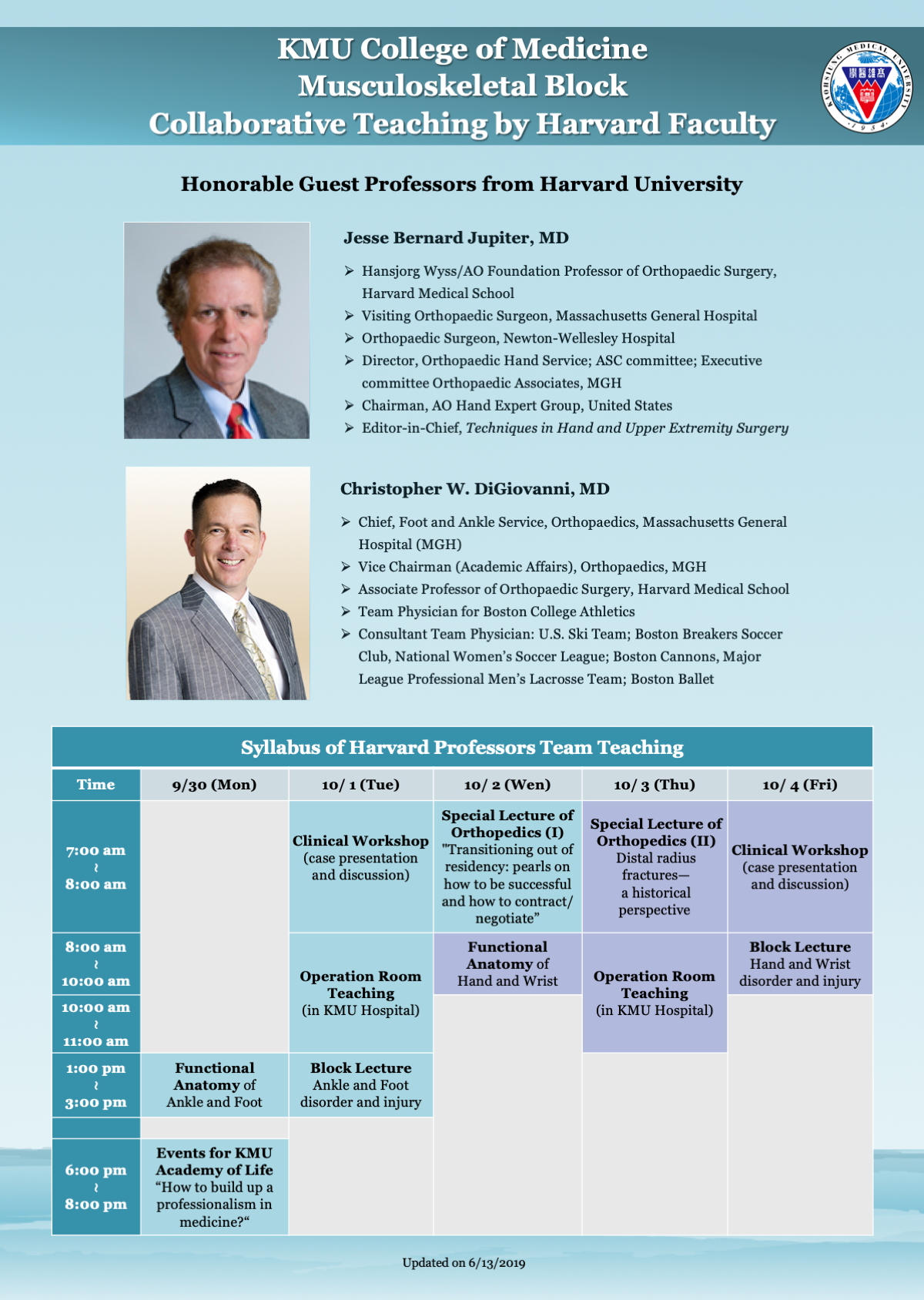 | | |
| --- | --- |
| | 1. 2015.04高雄醫學大學-哈佛腎臟協同教學教授與學生合影 |
| | 2. 2015.04高雄醫學大學-哈佛腎臟週教授與校長及本校師長合影 |
| | 3. 2015.04高雄醫學大學-哈佛腎臟週教授與校長合影 |
| | |
| --- | --- |
| | 1. 2014.06高雄醫學大學-哈佛肝臟協同教學教授與學生合影 |
| | 2. 2014.06高雄醫學大學-哈佛肝臟協同教學教授與校長及本校師長合影 |
| | 3. 2014.06高雄醫學大學-哈佛肝臟協同教學教授與校長及本校師長合影 |
| | 4. 2014.06高雄醫學大學-哈佛肝臟協同教學教授Raymond Chung |
| | |
| --- | --- |
| | 1. 2013.10高雄醫學大學-哈佛腎臟週教授與學生合影 |
| | 2. 2013.10高雄醫學大學-哈佛腎臟週教授與董事長校長及本校師長合影 |
| | 3. 2013.10高雄醫學大學-哈佛腎臟週上課情形1 |
| | 4. 2013.10高雄醫學大學-哈佛腎臟週上課照片2 |
| | 5. 2013.10高雄醫學大學-哈佛腎臟週教授與本校教師團隊合影 |
| | 6. 2013.10高雄醫學大學-哈佛腎臟週教授與本校學生互動合影1 |
| | 7. 2013.10高雄醫學大學-哈佛腎臟週教授與本校學生互動合影2 |
| | 8. 2013.10高雄醫學大學-哈佛腎臟週教授與本校學生互動合影3 |